It is hard to compile an ultimate rowing machine comparison chart and not include a Stamina product within it. Founded in 1987, US-based Stamina Products Inc. has as its motto "building a healthier stronger you. With your body in mind". Even as it has diversified into a range of related fitness equipment genres, among its core concerns remains the rowing machine, and this concern is more than evident in the high quality products its highly talented design team keeps coming up with, and which it retails at highly affordable prices without compromising durability or warranty. Yet given the Stamina rowing machine brand's focus on quality products rather than marketing and hype, potential customers are often left confused regarding the advantages to be had from using the company's products, and also which products are the best. To answer these two questions, we have compiled a short course on the brand below.
Reputation of Stamina Brand
After starting out in 1987, Stamina quickly gained popularity. Indeed, such was its impact that it was listed among Inc. 500, a list which features the fastest growing companies in the USA in the year. Since then, the company has constantly innovated while maintaining its superior quality. This has enabled the Stamina rowing machine brand to build for itself a formidable reputation in both the low end and the premium rowing machine segments.
This is reflected in part by the number of collaborations with world class athletes and coaches, including Brenda DyGraf, Tony Little, Denise Austin and Suzanne Somers. Furthermore, Stamina's products are regularly featured in athletes' villages and other areas meant for training and practice for athletes taking part in major tournaments. Coupled with the huge number of recommendations that the brand receives from professional athletes and the uniformly positive tone of customer reviews on shopping sites like Amazon, these help showcase the extent to which Stamina has come to be identified with quality and value for money.
Advantages Of Stamina Rowing Machine Brand
Range of Rowers – It is hard to find a brand that ensures similar quality and features across almost every resistance type. Barring water resistance, Stamina has products catering to every price bracket. While it is the undoubted champion of the budget hydraulic piston resistance market, it also has a fair share in the magnetic and air resistance industry, taking on the likes of Kettler and Concept 2 head on. This diversity ensures that even when a person wishes to shift from one resistance type to another, or from a cheaper to a more feature-packed product in the same resistance bracket, he/she can rely on receiving the same quality and value for money as he/she got from the older Stamina product.
Quality and Durability – All Stamina frames are made of high quality steel (and in some cases, aluminum) with corrosion resistant coating for enhanced durability. Furthermore, the electrical and mechanical components are tested under stringent conditions and only then passed onto the consumer. Parts prone to wear and tear, such as ball bearings, are sealed and well oiled to ensure that they can be used for long periods without the need for maintenance.
Good Service and Warranty – All Stamina products come with a 3 year warranty on the frame (with one or two even offering 5 year warranty), which is great regardless of the resistance type and the price range. All parts are covered under a 90 day warranty period, which is similar to the industry standard. Furthermore, whether or not the product is in warranty, Stamina is known for offering great customer service and with servicing centers in almost every corner of the country, one can use a Stamina rowing machine brand product without any worries.
Affordable Price – Stamina claims that its "customers get cutting edge innovation and quality equipment with an affordable price tag" and this is no hollow claim. Stamina sets the benchmark for prices in the piston rower segment, and beats the industry benchmarks in every other segment, be it air or magnetic. Indeed, while some companies' products cannot be found below $2,000, Stamina offers virtually all its products in the sub-$1,000 range, with most being below $700. As such, Stamina is truly a middle income person's brand.
Cutting Edge Innovation – Because Stamina believes in constant innovation and focus on a number of exercise machine segments apart from rowing machines, it is in a position to integrate other types of exercise instruments eg. Recumbent bikes with rowing machines, to produce products that allow for a huge number of exercise variations. Furthermore, it has successfully experimented with hybrid air and magnetic resistance products in the past.
5 Leading Products
1. Stamina Air Rower
Stamina's affordable air resistance rowing machine comes with a sturdy steel frame that is capable of working flawlessly with user weight of up to 250 pounds. Complementing this durability is a simple design that involves a two-leg frame attached to a large but light air resistance unit. The large, well cushioned seat runs on well oiled ball bearings without any balancing or friction issues, even when the rowing speed is quite high. Likewise, the footrests and handle are ergonomically designed and padded for additional user convenience.
To these is added the smooth and moderately quiet flywheel, which is capable of offering a wide range of resistance based on the strength used to draw the handle. Improving the flywheel's utility is the large and well positioned display that is capable of showing a number of useful metrics in a large and uncluttered fashion.
Last but not least, the product comes with a 3 year warranty on frame and a 90 day warranty on all parts, both of which are standard for the price bracket in which the product is placed.
 Click here to Read more about the Stamina Air Rower
2. Stamina Avari Programmable Magnetic Exercise Rower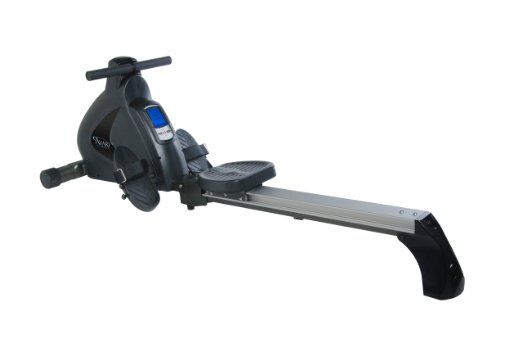 This product belongs to the Stamina rowing machine brand's premium Avari range, which is reflected in its having an extruded aluminum beam capable of handling user weight of up to 250 pounds. Furthermore, it comes with a molded and padded seat that runs on a well oiled seat carriage. Coupled with the ergonomically designed and padded handle and the large footrests with pivoting mechanism for natural foot movement during workout, these ensure a comfortable user experience.
The most important feature of the Avari magnetic rowing machine is the magnetic resistance unit, which offers noiseless and smooth workouts using a number of precision resistance levels. Coupled with the high quality bungee cord that connects the resistance unit to the handle, this magnetic resistance unit is capable of delivering a fulfilling workout to a wide range of people. If that weren't enough, the feature list is completed by the large LCD backlit display and the 12 pre-installed exercise programs that cater to users of all ages.
The magnetic resistance rower also comes with a 3 year warranty on frame.
 Click here to See more our reviews
3. Stamina 1215 Orbital
Combining the finesse of Stamina rowing machine brand's hydraulic piston resistance and the orbital arms that make for a realistic rowing experience, the Stamina 1215 comes with a well designed steel frame that boasts of a 250lbs user weight capacity. The comparatively lower price point, further, has not impacted the product's comfort quotient, since the well padded seat, the padded and ergonomically designed handles and the large footrests ensure that even a beginner can use this rower without any issues.
The piston resistance of each orbital arm is independent of the other, and comes with 5 resistance levels that cater to both beginners as well as expert athletes. Though piston resistance is never noiseless, the motion is smooth and the product does not suffer from the common problem of lowered resistance due to heating of the oil in the piston. Furthermore, the product comes with a large LCD monitor that shows all the important statistics, including calories burned, distance covered and time taken. Interestingly, it can be turned on simply by pulling the handles, thus saving the user the trouble of turning it on separately.
Lastly, the product boasts of a 5 year warranty on the frame, which is much higher than what other products in this price bracket can offer. The warranty on parts is 90 days.
Click here to Learn more about the Stamina 1215 Orbital
4. Stamina 35-1405 ATS Air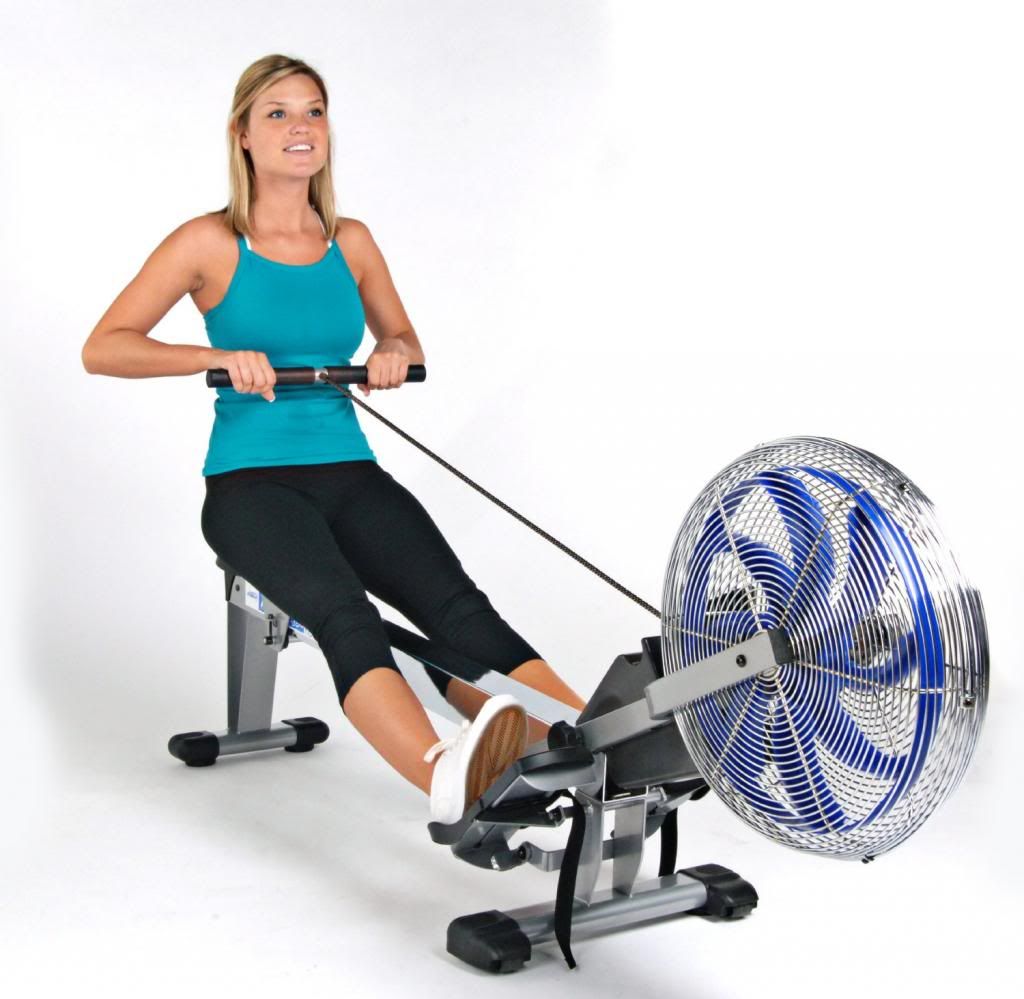 The second air resistance rower on our list, the Stamina 35-1405 comes with a sturdy stainless steel body that has a aluminum die finish to give it a premium finish. The seat is molded and comes with additional foam padding for user comfort, while the oversized chrome rail, the metal pull chain and the well oiled ball bearings add smoothness and stability to the seat carriage. Similarly, the handle is well padded for protection against blisters. Footrests, as in other Stamina rowing machine brand products, can accommodate a wide range of feet sizes and offer pivoting mechanism for natural foot movement during workout.
The air resistance unit is made up of a steel finish metal cage and a blue flywheel, which together add to both the aesthetic and the functional aspects of the rowing experience. Regarding the latter, one can add that the motion is smooth and the air resistance unit changes resistance in precise proportion to the change in effort applied. Like the Avari product, this rower also comes with a backlit screen that offers a number of easily legible metrics. It comes with a 3 year warranty on frame and a 90 days warranty on the parts.
Click here to Read more about the Stamina 35-1405 ATS Air
5. Stamina 15-9003 Deluxe Conversion II Recumbent / Rower
A company that makes products worthy of figuring among the honor roll of rowing machines must be capable of constant innovation, and the Conversion II is a good example of it. Featuring a sturdy extruded aluminum frame, it offers the user the combination of rowing machine, recumbent bike and upper bar for upper body exercises like bicep curls, etc. The machine comes with a well padded seat that comes with a backrest for the recumbent bike mode. Further, the seat carriage moves smoothly during rowing mode but can be fixed firmly at the right position during recumbent bike mode. The footrests and pedals are large with the former offering nylon straps and pivoting mechanism for a snug fit and natural foot movement respectively.
The resistance unit is magnetic, offering 8 levels of accurate resistance that cater to both beginners and experts. Combined with the excellent seat, handle and footrests, the magnetic resistance allows for smooth and comfortable rowing. The LCD monitor is large, while the inbuilt programs cover both recumbent bike and rower modes sufficiently.
The product comes with a 3 year warranty on frame and 90 days warranty on the parts.
Click here to Check it find out more
Conclusion
Though a detailed analysis of rowing machines from Stamina would require a far larger course, the above reviews should be sufficient proof of the fact that Stamina rowing machine brand is synonymous with quality, innovation and durability. While staying true to the basics of the rowing machine, the company has successfully leveraged its experience in various exercise industries to offer products that can defeat the competition in terms of both quality and price. Hence, though it would be pretentious to claim that Stamina is the best rowing machine brand in the market, one can say that it is the most affordable brand in the market, offering products that deliver value for money over the long term in a way that no other brand can rival.