It is a widely accepted fact that even the best drivers cannot expect to win a race in a rickety and under-performing racecar. The best athletes won't have a hope of winning that coveted gold medal without the right gear or tools. This principle also applies to rowing machines, or practically any other exercise machine. They won't have a prayer of getting the workout they need, or meet their fitness goals, unless they have the best rowing machine to work with. In order to experience excellent rowing and get excellent results, you also need an excellent rowing machine, and the best option is definitely a water rowing machine.
Types of Rowing Machines According to Resistance
Before we can get to the advantages of owning a water rowing machine (and decide that it is the best rowing machine option for us), we must first know about the other types of rowers. Generally, there are 4 rowing machine resistance types, briefly described below:
Air Resistance: Rowing machines of this type derive resistance from a spinning flywheel, which creates wind as the rower pulls on the handles. To increase the resistance, the rower must increase the intensity of rowing, in order to create more wind.
Hydraulic Piston Resistance: Hydraulic pistons located on the arms of the handlebars provide the resistance for this type of rowing machine. Usually, the pistons have a resistance-level setting, so you can easily adjust resistance accordingly.
Magnetic Resistance: Rowing machines of this type are designed with magnetic brake systems to generate resistance.
Water Resistance: A rowing machine of this type is designed with a tank of water and paddles, which are used to create resistance. This simulates actual rowing or paddling in the water.
Advantages of Water Resistance Rowing Machines
Most of the experienced rowers will readily tell you that the best rowing machine is one that utilizes water resistance. Not only does it guarantee great results in terms of your workout goals, but it also gives you an overall excellent rowing experience. Here are the main advantages of a water resistance rowing machine over other types of resistance.
Water rowing machines give you more control over the resistance levels. Creating resistance in a water rowing machine is primarily through the use of paddles that are suspended in a tank of water. Rowers will have to pull the handle of the paddles harder and faster in order to increase the level of resistance. This affords the rower more control over how much resistance he or she wants during a session, allowing him or her to adjust accordingly. This is also a feature found in air resistance rowing machines, but not so with magnetic and hydraulic piston rowers.
Water rowing machines give you more options for adjusting resistance levels. As stated earlier, the resistance level of water rowing machines depend on how hard and how fast you pull the paddle through the tank of water. But that is not the only way for you to tweak the resistance you'll get from the machine. You can also increase the level of resistance by adding more water in the water tank; taking out some of the water will have the opposite effect.
Water rowing machines can give you a more soothing rowing experience. Many rowing machine reviews zero in on how much noise is emitted by these machines when in use. Granted, water rowing machines are not at all noiseless; however, it produces the sound of paddles hitting and moving through the water – a sound that is considered to have a very relaxing effect. It might not be as quiet as a magnetic rower, but it definitely does not make as much noise as an air resistance rower.
Water rowing machines give you an experience that is close to actual rowing on water. Since it replicates actual rowing feel, it makes the workout even more fun.
Top 5 Best Water Rowing Machine
Let us take a look at the top 5 best water rowing machines available in the market today, along with corresponding brief rowing machine reviews for each.
1. WaterRower Natural Rowing Machine in Ash Wood with S4 Monitor


This handcrafted rowing machine comes with a water flywheel in an enclosed water tank, which makes for a smooth and quiet operation. Resistance is also easily regulated with the way the rower handles the machine. It is also equipped with a Series 4 performance monitor, which tracks your workout intensity, stroke rate, heart rate, and other stats, as well as let you navigate its functions easier. It is solidly constructed, with ash wood effectively absorbing sound and vibration, and a stained honey oak finish for that handcrafted look. See more our reviews
2. WaterRower Club Rowing Machine in Ash Wood with S4 Monitor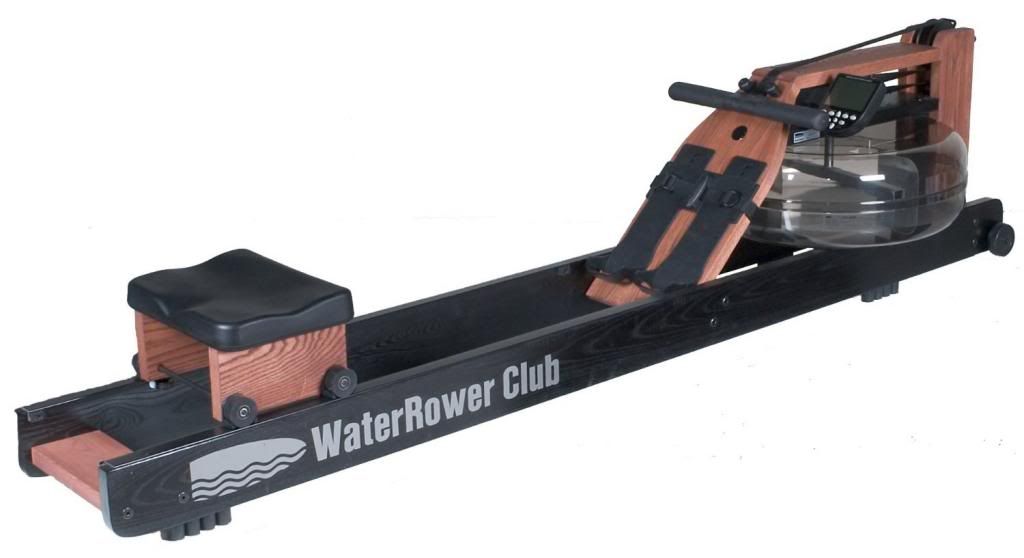 Another highly rated water rower, the Club Rowing Machine shares roughly similar features with the Natural. However, while the Natural is designed more for home or personal use, this one is designed for heavy duty use, particularly in gyms, clinics, and other high-traffic areas. A number of rowing machine reviews also compared this with other heavy duty workout machines, and this unit came out with flying colors, from its industrial grade components to its space efficiency features. See more our reviews
3. WaterRower A1 Home Rowing Machine


Those who are looking for a rowing machine specifically for home use should look no further than the WaterRower A1 Home Rowing Machine. It also comes with WaterRower's water flywheel innovation, with a solid ash construction that effectively takes sound and vibration under control. The accompanying A1 Monitor is pretty basic, but it displays the vital stats that will help you track your progress on the machine. This is the best rowing machine for those who want the basic benefits of a rowing machine at an affordable price. See more our reviews
4. WaterRower Oxbridge Rowing Machine


Yet another WaterRower creation, the Oxbridge boasts a beautiful cherry wood construction, with a Danish oil finish. In fact, it is so attractive, you would not hesitate to put it in any part of your home. If you read up on rowing machine reviews for this unit, don't be surprised at how much they are raving about how beautiful it looks. It is also outfitted with the Series 4 performance monitor and is perfect for rowers of all sizes and fitness levels. See more our reviews
5. ProRower H2O RX-750 Home Series Rowing Machine
What makes the ProRower stand out is its innovative Hydro-Power Drive System, which effectively simulates the dynamics of actual rowing. The water tank is made from highly durable polycarbonate material, and the handgrip boasts an ergonomic design resulting in a more comfortable grip, even during prolonged rowing sessions. See more our reviews
Conclusion
If you want to ensure that you get the best results from your rowing session, and that you actually have fun while working out, then make sure you are using the best rowing machine. Make the most of your rowing experience by getting a water rowing machine. It gives you a more realistic rowing feel, while helping you achieve your health and fitness goals in one fell swoop!