Considering the hype created by companies about their high-end commercial and/or professional air and water resistance rowing machines, it is not surprising that many a fitness enthusiast believes that the best rowing machines belong to either of these two resistance types, while hydraulic piston rowing machines are either of poor quality or have too few features to make them value for money propositions.
This may be true for a few cheap products from little known companies, but when it comes to premium ones made by the likes of Stamina, Kettler and HCI Fitness, these beliefs could not be farther from the actual facts. Not only are these companies' products of premium build quality and capable of providing excellent durability, they also offer a number of advantages over air, magnetic and water resistance rowers.
What are these advantages, and which products offer the best combination of such advantages in the market today? To answer these questions, we have compiled a short list of benefits that these hydraulic rowers offer, followed by short reviews of the top 5 products in the market today.
Why Hydraulic Piston Rowing Machines?
Price: While some high end hydraulic piston rowing machines may demand cash enough to buy a magnetic rowing machine, it is true that these rowing machines are generally cheaper than magnetic resistance ones and always cheaper than air and water resistance rowing machines of comparable quality and specifications. This makes these rowing machines ideal for beginners and fitness enthusiasts on a tight budget.
Compact and Lightweight : These rowing machines have a very small piston assembly. Compared to the huge flywheels of air resistance units, the equally large (and heavy) water tanks of the water rowers and the heavy and large magnetic resistance assemblies, piston rowers are extremely compact and light. They can therefore be moved from place to place and stored away without much difficulty.
Comparatively quiet : Users of magnetic rowing machines would contend that their machines are the quietest, and they're right. However, piston rowing machines produce far less sound than either the flywheel of an air resistance machine or the paddle in the water tank of a water resistance unit. Furthermore, contrary to popular perception, the noise that is produced by the pistons is far from disagreeable, and does not interfere with music being played in the background.
Variable Resistance Available: These days, hydraulic piston resistance rowing machines are available that offer variations in the level of resistance by changing the resistance of the fluid present in the piston. Though the accuracy is never as great as in the case of a magnetic resistance unit, such resistance can often rival the precision of an air resistance unit.
No laggards In Terms Of Warranty: Warranty varies with the price bracket and not with the type of resistance. Since piston rowing machines are cheaper, they will obviously have a smaller warranty as compared to a top of the range air or water rower. Consider however, that when magnetic and piston rowing machines tend to fall in the same price bracket, the low end magnetic resistance unit may well have lower warranty than a high end piston resistance device. Hence, it makes no sense to move up the price ladder for other resistance types simply to get a better warranty, as the warranty offered by the best piston resistance units are as good as any (if not better) that are available in that price bracket.
5 Best Hydraulic Piston Rowing Machines
1. Kettler Favorit
Kettler is known the world over for its fine German engineering, and we can find evidence of it in the highly durable powder coated high carbon steel frame and the well oiled, sealed ball bearings upon which the seat moves without any hint of friction or instability. So confident is Kettler in its engineering prowess that it secures the frame with a lifetime warranty. Complementing the solid build is the innovative two arm rowing mechanism, with a separate piston resistance assembly for each arm. This means that not only can your modify the resistance using the wide range of resistance levels provided on each arm piston, you can work with a different resistance on each arm, though unless you have medical issues or a weak arm, we would advise you that using different resistances on the two arms deviates from normal rowing machine procedure.
The LCD display is simpler than some of the higher end products but at this price range, it covers all that is expected viz. showing a number of metrics like strokes count, distance, etc. and a good number of pre-programmed workouts. There is even support for a heart rate monitor.
Some users however complained that the LCD monitor was not backlit, while others found fault with the slightly higher than average price tag. However, considering the features offered, they added that it would be wrong to consider the Favorit as anything but value for money. The Kettler Favorit rowing machine comes with a lifetime warranty on frame (as mentioned above), while the warranty on parts is 3 years. Check it find out more
2. Kettler Kadett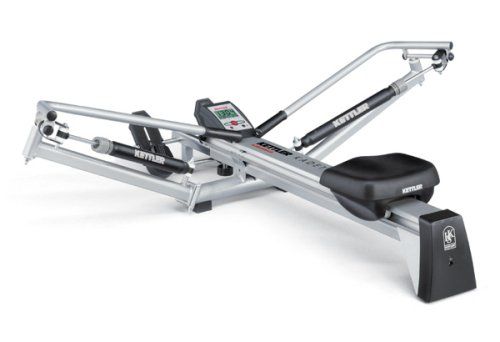 One of the costlier hydraulic piston rowing machines, the Kettler Kadett justifies its high price by offering the high quality frame mentioned above and also providing the outrigger style rowing arms, which are used even by professional rowers for the highly realistic rowing experience they offer. Furthermore, like the Favorit, the Kadett offers separate pistons on each arm. With each piston offering 12 separate resistance levels, this makes the product one of the most customizable in terms of resistance offered.
The monitor is the same as the one on the Kettler Favorit but it offers some more features eg. Determining target distance based on the pulse rate of the person. These, coupled with the audio and visual signals and the lifetime warranty on frame, make this product an ideal contender for becoming the best rowing machine for beginners as well as professionals.
Indeed, it would have been the king of this segment had it not been for Kettler forgetting to translate the manual and the monitor instructions into languages other than German. Further, the handles are hard, unlike most products that offer padded handles. This rower too comes with a lifetime warranty on the frame and 3 years on parts, which is decent for this price bracket. Click here to read our full reviews
3. HCI Fitness Sprint Outrigger Scull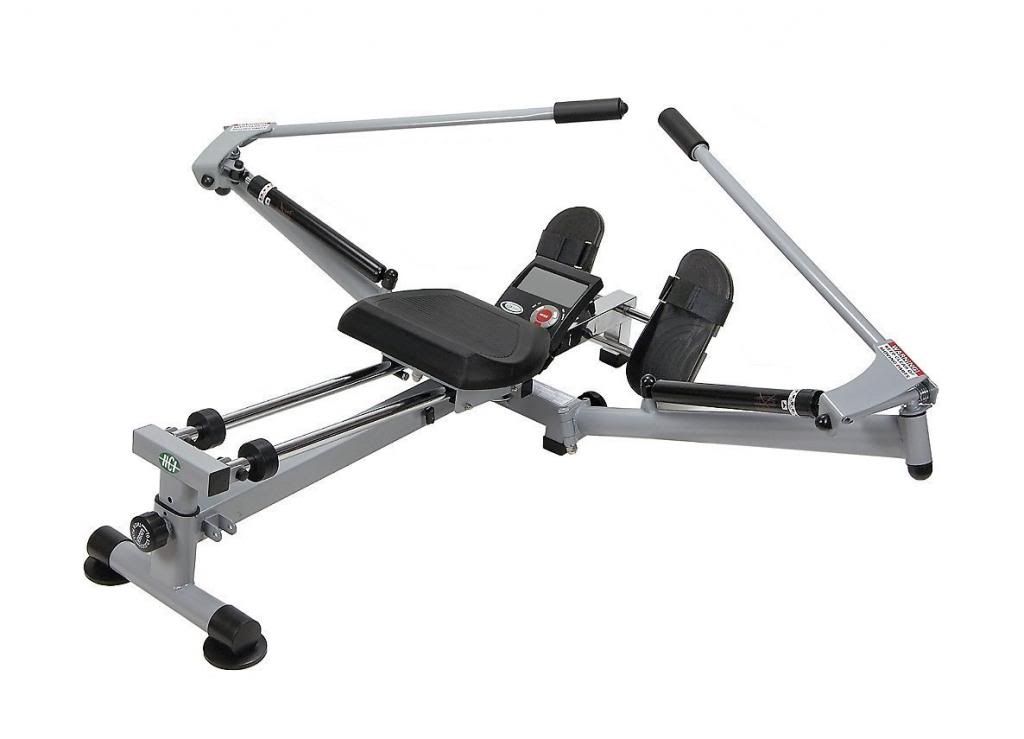 Sharing the German heritage and the outrigger style of the Kettler Kadett, the HCI Fitness Sprint offers a lower price point and a somewhat different set of features. It offers continuous resistance with resistance levels going from 1-12. HCI has provided a decent steel frame and superior seat structure, upon which sits the highly padded and extremely comfortable seat.
Furthermore, the display is intuitive and provides all the major metrics in large letters. Some users however complained that the monitor does not track some metrics correctly or as precisely as some higher end products. These, however, are tolerable considering that this product is a good candidate for the top 5 cheap rowing machines, as it comes at a substantially lower price point as compared to the above Kettler products. However, one does wish that the warranty had been longer than one year. See more our reviews
4. Stamina 1215 Orbital
Offering unmatched pricing, Stamina's products are known for their superior build quality, and hence it is no surprise that few people complain about the structure or design – even if it belongs to the rarer free motion arms style. Admittedly it does not offer the outward stretching motion that Kettler's products do, but the linear motion is smooth. Coupled with the padded seat and handles, these make rowing on the Stamina 1215 a highly pleasurable experience.
Considering the price, the display cannot be expected to be anything but basic. Still, it displays some vital metrics with accuracy and clarity. However, some users commented that the calories burned was calculated based upon age and not an actual measurement tool. Lastly, a few users also wondered whether Stamina could have included better shocks and pistons. However, they accepted that at this price range, a top of the range piston is perhaps not available. It comes with a five year warranty on frame and 90 days on parts. Read our detailed reviews
 5. Stamina 1205 Precision Rower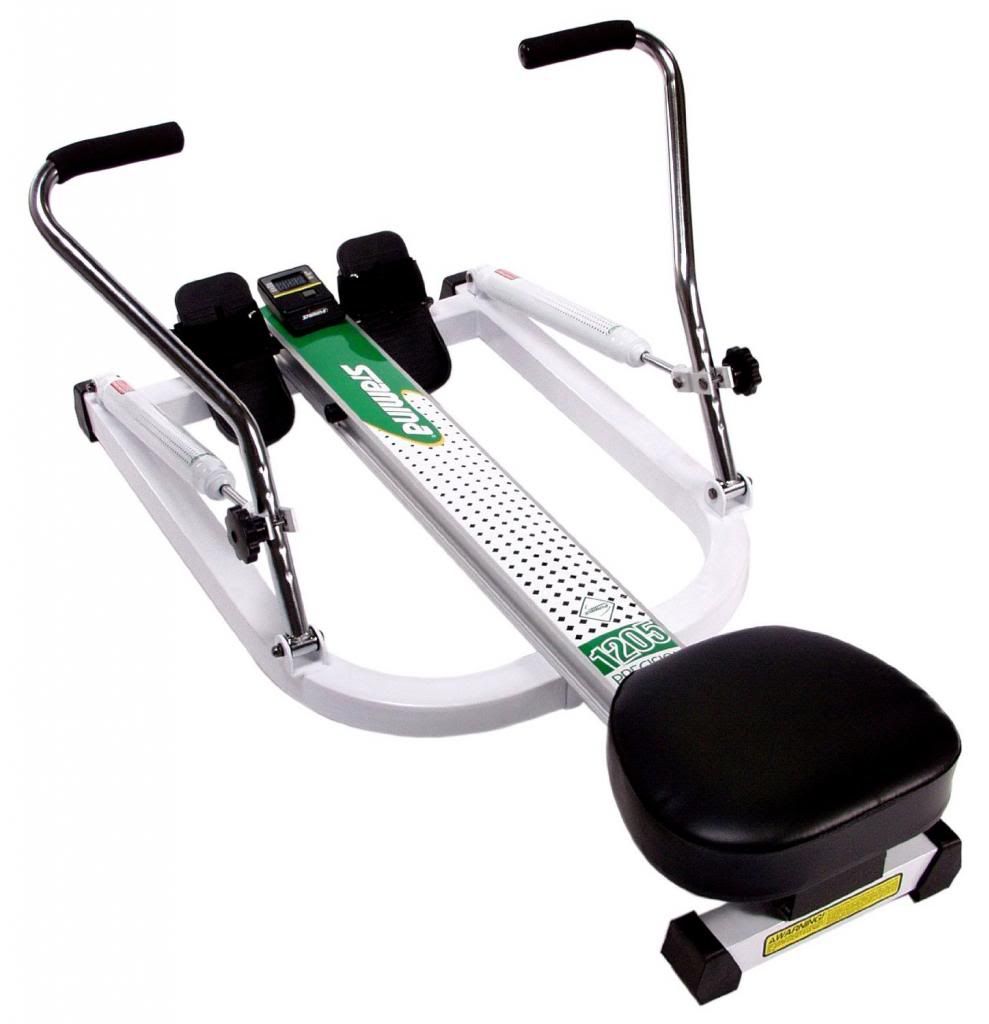 The cheapest product on our list, the 1205 offers the same high quality steel frame and piston mechanism as the Stamina 1215. Furthermore, it has a deluxe ball bearing system that ensures precise movement of the product parts. Like most of the products in this list, this highly affordable product also offers two handles of a metal quality similar to that of the frame itself, thus allowing for a highly modifiable workout.
The display is a basic non-backlit one that some users had trouble reading as it has only as single metric panel and limited number of buttons. That said, it does offer programs and a large number of the standard metrics required by rowers. The product comes with 5 years warranty on frame and 90 days' warranty on parts. While the first is okay for the price, the second, many users felt, could have been improved. You can read more our reviews at here
Conclusion
As the above guide shows, hydraulic piston resistance rowing machines can offer unmatched value for money if you choose the product that suits you best. If the outrigger design is what you seek, be prepared to shell out premium prices (though even these are low compared to what the other products demand), while if you just wish a decent design with two arms, you can go for the highly affordable Stamina products. Either way, it is more or less certain that you shall get your money's worth, so that whichever device you choose based on your needs, you will never be left complaining about a choice that is bad or does not meet your needs.