Picking up the right fitness rowing machine that could fall in to your criteria for features, specifications and budget is surely a tough task and it surely requires you to thoroughly go through rowing machine reviews. There are different types of rowing machine available today and each of them has their own advantages and features. The decision to choose one particular type of machine depends hugely upon what your fitness goal is. Apart from that other specification that one may be looking for is the resistance level, noiselessness, speed and other such factors that affect your purchase decision.
Why Magnetic Rowing Machine?
Magnetic rowing machines are based on magnetic resistance derived from electromagnets. These rowing machines are light in weight but expensive in price. If you like to work out in a noiseless environment, then a magnetic machine will possibly the best option for you. This rower has many other advantages apart from being noise efficient. You can enjoy a more effective fitness rowing with the adjustable resistance levels of this machine.
Rowing machines operate with a magnetic break appointed in the flywheel of the rower that generates resistance. Users can choose the resistance setting that suits their needs for exercising. The magnets are placed in to the flywheel. The machines operate by the difference between magnets and spinning flywheel. The resistance level of these machines can be set through mechanical sliders or through control on digital consoles.
The magnetic rowing machines operate smoothly and effectively. These are usually smaller in size in comparison to water or air resistance rowers. Magnetic rowers require little or almost no maintenance.
Listed below are some of the most popular high quality top 5 magnetic rowing machines and you can choose one of these or any other depending upon your specific requirements.
1. Velocity Magnetic Exercise Rower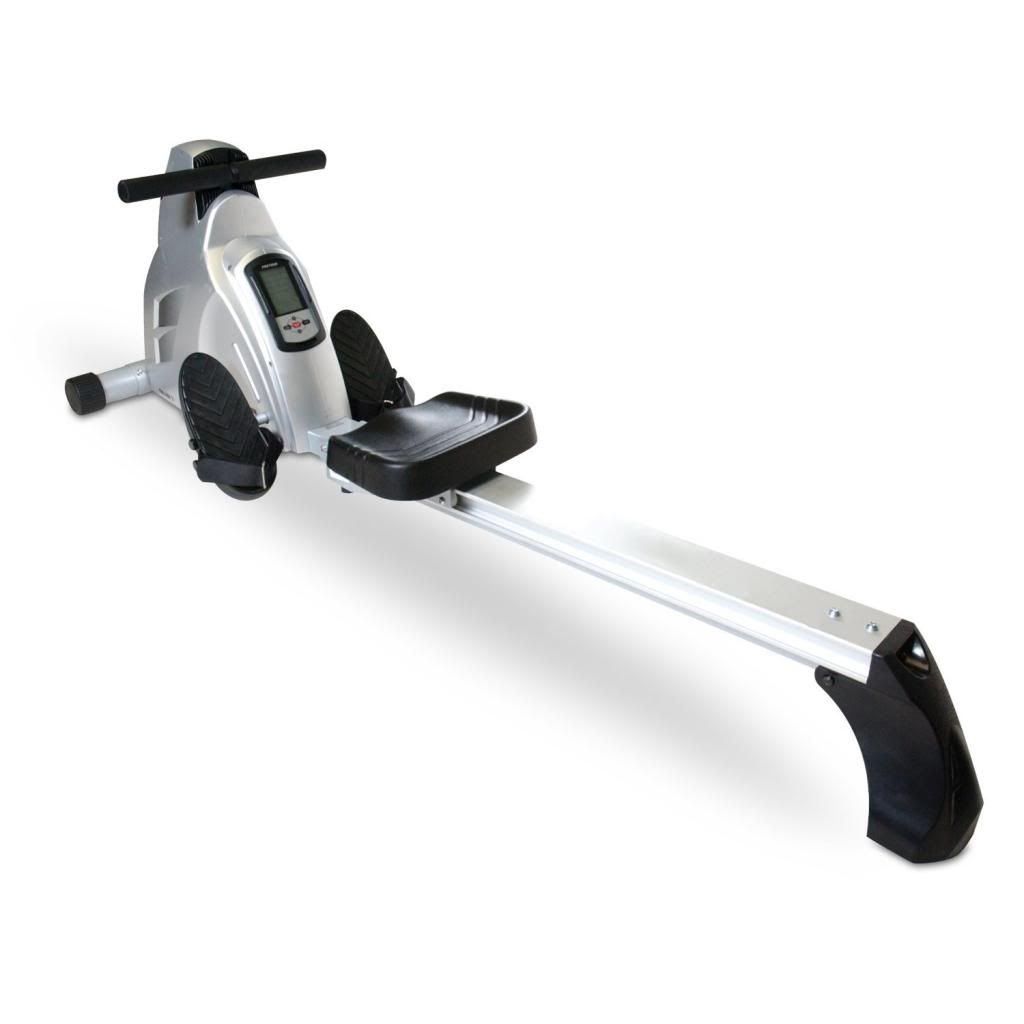 Velocity Magnetic Exercise Rower is one of the best rowing machines to be used at home. This programmable machine works over a Drum Magnetic Control System and resistance is adjusted with electronic tension control.
The machine includes a large LCD display that gives you clear information of your workout including count, time, strokes, calories, distance and pulse reading. It also has a heart rate monitor for intense cardiovascular exercises. There are a variety of different preset programs in this machine including 6 presets and 1 manual and you can choose one that suits you best.
This rower has a folding design and thus storage would not take much space. It has built-in wheels which makes transportation easier. The machine is appointed with a large PU molded saddle for comfort. Other features include Anodized Aluminum Profile and rectangular tubing support. It gives you a quiet and smooth operation. The rowing exercise with this machine would benefits all the main muscles of your body and would improve heart and circulatory systems of your body. The Velocity Magnetic Exercise Rower can be purchased from Amazon at a special discount with free shipping. Find out more it here
2. Stamina Avari Programmable Magnetic Exercise Rower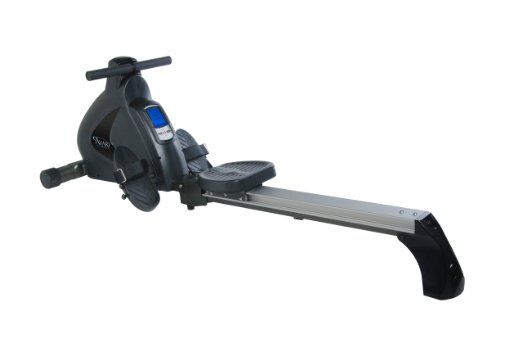 The Stamina Avari Programmable Magnetic Exercise Rower is an impressive indoor rowing machine that gives you an effective workout for all the main group of muscles of your body. This machine works best for low impact aerobics that improve your metabolism.
This programmable machine has 12 different programs that you can monitor over its backlit LCD In Touch Monitor. The fitness monitor gives you complete information about time, distance, count, strokes per minute, pulse reading and calories count.
It includes 7 preset programs and selecting any one according to your needs would automatically adjust the magnetic tension for workout. The machine has a smooth uninterrupted drive and stroke recovery phases. The molded seat along with the aluminum beam makes this machine more comfortable to operate. The Stamina Avari Rower is available at Amazon for a great discount with free shipping. Read our review here

 3. Stamina Avari Conversion II Rower/ Recumbent Exercise Bike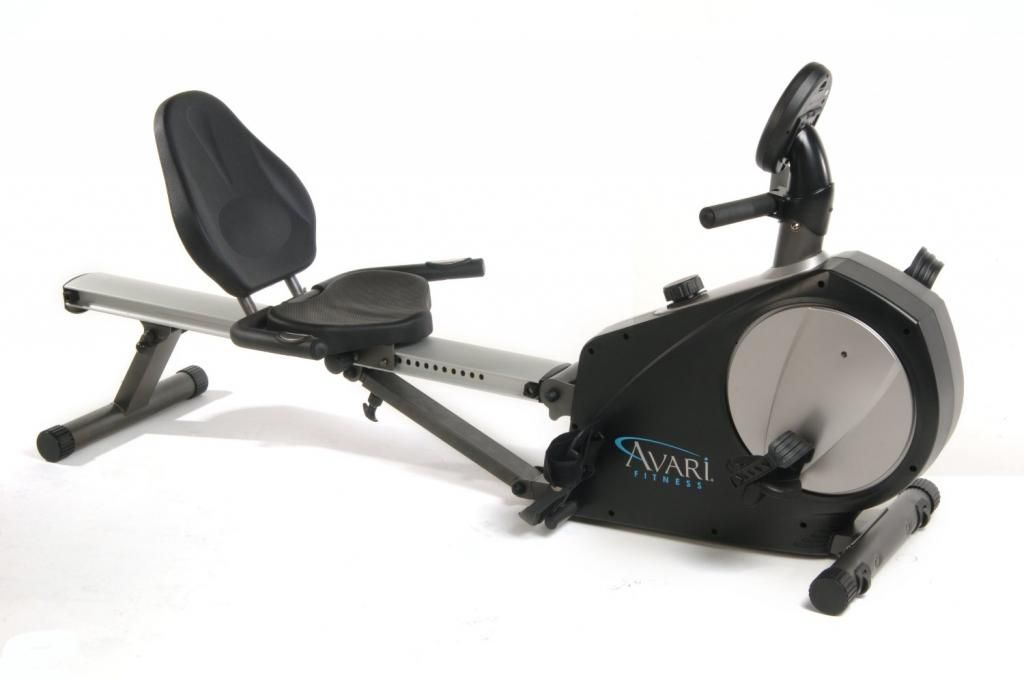 This space saving machine gives you benefits of two different cardiovascular workouts in one. You can easily switch from biking to rowing and from rowing to biking by simple pin pulling and adjusting the seat. The seat is comfortable and gives you smooth operation in both positions. Hand grips and footrests are designed to fit accurately during both workouts. The rowing straps are made of Nylon and the hand grip is padded.
The Multifunctional Monitor of Stamina Avari Conversion II Rower/ Recumbent Exercise Bike give you continuous feedback of your heart rate along with other information including time, speed, calories burned and distance covered. You can adjust the intensity of workout at 8 different positions of tension knob. This machine has smooth and quiet operation.
The frame is made of sturdy steel with aluminum rail. The machine has a foldable design and wheels for easy storage and transport. This rower can be bought at the best price with free shipping at Amazon. See more details
 4. Stamina 15-9003 Deluxe Conversion II Recumbent / Rower

The Stamina 15-9003 Deluxe Conversion II Recumbent / Rower works dual operation of a rower along with a recumbent bike. You can enjoy additional strength exercises for your upper body as well with this machine for your triceps, bicep curls, kickbacks and more. The resistance cord of the machine is placed under the user seat in order to give light pressure to legs.
The machine can operate over 8 different levels of resistance and you can choose one according to your needs. It includes a Multi-function electronic monitor with large easy to read LCD. It gives details on distance, time, speed, pulse and calories burned in order to give you motivation for workout. The design is portable with wheels and it folds for easy storage.
The rowing pedals are capable of rotation. Foot straps are designed to adjust varied feet size securely. The rower has a sturdy steel construction and aluminum rowing beam. Amazing discount with free shipping is offered for this machine at Amazon. Here is our review details
5. Kettler Stroker Rower and Multi-Trainer

The KettlerStroker Rower and Multi-Trainer is a space saving multifunctional machine that is one of the best machines for strengthening workout. The machine works over a center pull system that gives you an ideal machine for cardio, leg and upper body muscle workout.
It has a sliding seat that moves smoothly and quietly over high quality ball bearings along the rail. It has a clear LCD display with 6 different programs. It gives data on strokes time, current cadence, distance and heart rate. It also includes a heart rate monitor that is capable of transferring data wirelessly to your computer.
User can manually set the resistance level from 1 to 8. Other features include correct footplates, seat with thick padding, sturdy steel frame and a design that folds up for easy storage. It includes built-in transport castors for easy moving. Amazon is offering a special discount on this machine with free shipping. Learn more about it here
Conclusion
The impressive set of features and ease of use makes these top 5 magnetic rowing machines ideal for enjoying luxury of workouts at home. These almost silent compact machines are quite popular among people who prefer staying home for workouts. If you are unsure of how a particular rowing machine operates, check out our complete guide about how to use a rowing machine. So grab one that suits you best now!